Keep the competitive edge in your business by using our capital solutions programs. We want to earn and keep your business by offering outstanding service, again and again.

Businesses need many options in funding sources to have a competitive edge. Our program helps businesses who want an alternative funding choice and to get up to $2,000,000 per location in an immediate cash advance. Unlike complicated business loans, the application at Premier Business Funding takes only a few minutes to complete.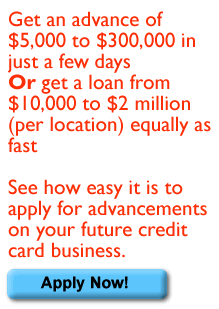 Premier Business Funding specializes in Advancements on Future Credit Card Purchases, otherwise known as factoring.
Get the cash you need NOW. Let Premier Business Funding help you get cash NOW as many times as you need it for:
Premier Business Funding can provide you with a cash advance for:
Purchase New Equipment and Inventory
Expand Current Business Operations
Payoff Taxes/Debts
Acquire an Additional Location
Refurbish or Renovate Existing Business Location
What about working capital advances? How do they work?
Simply put, we have the ability to purchase your businesses future receivables. Factoring is a relatively unknown concept that has helped thousands of business in the past few years. The business capital you need is not a loan, nor does it require a difficult approval process. It is simply a business cash advance against your future sales, and as such, is not reported to credit bureaus. You will not be burdened with long term debt, or endless fixed payments. You pay nothing to get started, and you receive your money quickly.
Quick approval --- Quick cash
No hidden fees -- No monthly bills to pay
Fast approval time -- Faster Cash
Much less paperwork
Credit history - not as critical
Up to $250,000 per location cash advance
Flexible Payment Schedule
No line of Credit --- No Collateral Required
Repayment through a small percentage of your daily credit card processing volume.
Get the cash you need NOW -- an advance on your future Credit Card Business This is a viable option when conventional sources are not available, for whatever reasons. The advantages are numerous.